Page 1 Page 2
When Can I See The Film?
I have a love-hate relationship with this question.  On the one hand, this question brings me more gratification than a double-stuffed oreo—knowing that there are people in the world that want to see something I've created is one of the most rewarding gifts I've ever received.  On the other hand, having to respond to that question with "Soon," knowing that the real answer is "I don't know," is down-right depressing.
So in order to better answer this question, I started talking to people directly and indirectly affiliated with the film industry. And here's what they told me: (1) distribution is the only way to get your film seen (by more than 2000 people), (2) the only way to get a distribution deal is through film festivals, (3) festivals are really hard to get into these days and rarely result in distribution, (4) distributors will not pick up a film that is already available on DVD, (5) production companies and cable stations do not take unsolicited submissions, (6) most documentaries and independent films lose money, (7) most films, even those that do have success in festivals, never see the light of day, and lastly, (8) I like your film but I can't help you until you create your own buzz.
So, I need to "make things happen" on my own before distributors will help, but the only way to "make things happen" is through distributors?  Talk about a serious chicken and egg problem.
On the surface this kind of advice is fairly defeating, but I've never been one to cash in my chips, so I decided to take a step back and think outside the box. And here's what I came up with for 2012:
Kickstarter Campaign.  Georgia to Maine (G2M) Tour.  University & College Tour.
KICKSTARTER CAMPAIGN – May 18 to July 16, 2012
Kickstarter is the world's largest funding platform for creative projects.  It affords filmmakers, musicians, and artists an opportunity to raise money for a short, 60-Day period, while also providing a medium for advertisement.  The BBtD Kickstarter campaign will launch on May 18 with a plan to raise $15,000.  This money will then be used to cover expenses during the G2M & University tours set to take place later this year. Stay tuned!
GEORGIA TO MAINE (G2M) TOUR – June & July 2012
Brandon "Monkey" Imp will be traveling up the coast this summer to screen Beauty Beneath the Dirt in as many trail towns as possible.  He will be joined (at various times) by other members of the Cast & Crew, as well as fellow 2010 thru-hikers. Expect fun, screenings, and trail magic!
If you'd like to book a screening in your hostel, town, hotel, or community center, and you live on or near the Appalachian Trail, please contact us.
UNIVERSITY & COLLEGE TOUR – September, October, & November 2012
Members of the Cast & Crew will be visiting universities around the United States this fall, screening the film for college students, professors, and local outdoor adventure enthusiasts.  These screenings will also include panel discussions and opportunities for students to ask questions about long-distance hiking, filmmaking, and the Appalachian Trail.
If you'd like to book a screening at your college or university, please contact us.
—–
So why use screenings as a way to create buzz?
Screenings are a way for us to show you the film and create buzz without impeding our opportunities for wider distribution. It also gives us an opportunity to interact with our audience after each showing and promote discussion.
Is the film any good?
Kickstarter campaigns & screening tours sound good in theory, but only if you have a film worth watching.  Before we begin the expensive and grueling process of marketing Beauty Beneath the Dirt, I decided to test the film's success at the University of Illinois College of Law.  Here are a few of the comments we received: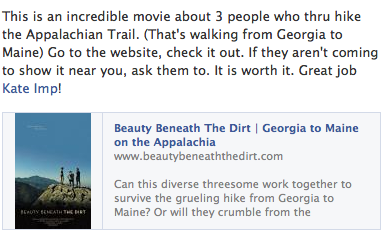 So, when can you see the film?
Now.
How can you help to maximize the amount of people that get to see this film?
Post the trailer to facebook/twitter, donate to our Kickstarter campaign, and come to one of our screenings. All screenings will be listed on the film page of our website.
Thank you again for everyone's support in this 3-year (and counting) journey!
by Kate 'Ringleader' Imp
Page 1 Page 2